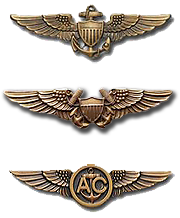 The 2008 VP-45 Association Reunion was held at the Jacksonville Crown Plaza Hotel.  It turned out to be the perfect place for a hub of reunion activities that took place September 24-28, 2008.  New officers were elected and took office.  Buck Jones is our new president, Dick Gray is Vice President, PJ Imhof took over Treasurer duties and Wally Massenburg assumed the Secretary position.  Steve Riddle stayed on as WebMaster.
This was the second reunion my wife, Becky, and I had attended and I was very impressed with the activities and preparation.  Before we had arrived, there was a bus tour of Kings Bay Naval Submarine Base that a number of early arrival folks attended.  A lot of us went to Ruth's Chris Steak House on Thursday evening to get reacquainted and enjoy some great Texas chow in Florida. 
On Friday there was a choice of tours…either to St. Augustine or to NAS Jax for a tour of the VP-45 facilities at Hangar 1000.  We went to the squadron tour and thoroughly enjoyed ourselves.  A couple squadron JO's conducted the tours and the CO, CDR Gordo gave us an informative briefing on current squadron ops and deployments – my how things have changed.  Since the O Club and CPO club are closed, we had lunch and "The Zone" which was once the Acey-Duecy Club.  We returned to the squadron for a static display tour aboard one of the P-3s.  Its 158 series BUNO matched one of the lot of nine new P-3C's we received from Lockheed in 1972.  Strangely it did not smell like a new car anymore and much of the avioncs technology and equipment inside the plane was unrecognizable.   Those powerful Allison T-56 engines and huge props remain unchanged. The last event of the day was a series of group photos out on the flight line (see photo section link above).
Friday evening at the hotel centered around a reception where a huge number of late arrivals showed up.  What a blast seeing again people I had not seen for well over 30 years. Saturday morning, the heavies in the Association were up early for a business meeting.  Since I was not there, I can't say what happened but the officers mentioned above were formally installed in there new jobs.  Many of the folks went on the scheduled Amelia Island/Fernandina Beach tour.  The rest of us laid low, nursing slight headaches from the previous night's activities and hanging out in the hospitality room before getting an early start on Happy Hour.
The relatively formal main event was held Saturday evening and commenced with presentation of colors by the Jacksonville University NROTC Color Guard.  For this reunion I had put together a 30 minute of so video of the squadron's history.  That was shown on a "big screen" in the main dining room.  Various presentations and honors were presented before and after dinner and the guest speaker of the evening was RAMD Brian Prindle, the VP wing commander in Jax.  Of note, he is the son of the late RADM Charlie Prindle who was commander of Wing ELEVEN in the mid 70's...and my boss when I was a JO there in '74 - '77.
After breakfast Sunday morning, we had an opportunity to gather again with old friends and shipmates to say goodbye and vow to get together again in two years. 
I wrote this summary in November of 2011 based on my recollections with some help from Jim Mean's article in the March 2009 newsletter.  I missed the 2010 reunion in Alexandria due to a schedule conflict with a previously booked 12 days on the Big Island of Hawaii.  But Becky and I will be in Mobile for the 2012 reunion!!
Bill Hobgood (WebMaster)
If you would like to view a video about the history of the squadron, made for showing at this reunion, please click here: VP-45 1942 - 2008.
WARNING:
The above video is over 20 minutes in duration and is of relatively high quality. It may take (depending on your connection speed) up to 20 minutes to download and play. Patience....it will be worth it.