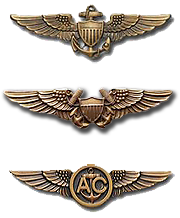 Our first reunion is now history and what a "great" time it was for all who attended. I chose the term "great" not just from my own personal point of view, but from the stacks of cards, letters, phone calls, and notes that have been received by Mort, Dave, and I. We are grateful for the opportunity to be a part of an event that brought so much joy to a mass of "ole" friends.
Mort did such an excellent job of providing an account of the reunion, with his permission; we'll now take sojourn back through the "good ole times".
The great weekend is now history. Patrol Squadron Forty—Five met in reunion October 26—28, 1990 in the "Cradle of Naval Aviation", Pensacola, Florida. Reunion headquarters was the Pensacola Hilton with 92 of us staying there. Some stayed with old friends and shipmates as well as other hotels/motels. All told, there were one hundred sixty—four of us accompanied by 146 companions gathered for the weekend. The Hilton provided us with two complementary adjoining rooms that were very suitably used for hospitality purposes. We rapidly turned the rooms into our "Ready Room" and appropriately renamed them thusly. The "ready room" was suitably decorated with all kinds of memorabilia. The TV set ran a marvelous continuous tape of Patron Four Five experiences provided by many of you, assembled and produced by our own Bill Myers, Bill Bryan, and Miller Carmichael. Needless to say, the "ready room" jumped with people, sea stories, and very hot air the whole weekend.
While I'm on the subject, Bill Smith organized and ran the "ready room" operation. Bill and his crew consisting of George Newman, Ken Cory, Poncho Perez, Joe Rascoe, Bill Holtzclaw, Bill Barthel, J.J. Rollins, and Blair Laughlin, deserve and get kudos galore.
Friday morning saw the registration crew start to work. Ken Cory honchoed this evolution with the willing and able assistance of his wife Vivian. Every registrant received a "survival kit" full, of goodies. (Vivian must have opened and closed those 200 bags about thirty times each time we came up with a new item for the kit). Each registrant was also presented with a very handsome cap complete with the Squadron Pelican Patch on the front. Ken and his crew consisting of Vivian, Norm and Noni Brady, Al Jansen, Dave Johnson, Murray Gordon, Don and Maxine Braddy, Al and Jane Lee, and last but not least, Joyce Beebe set the tone with their cheerful greetings and enthusiasm. Ken's artistic bent provided many of the marvelous signs and displays that decorated the lobby and "ready room".
The newly expanded National Museum of Naval Aviation provided the ultimately appropriate background for our Friday evening welcome aboard "Cocktail Party". The party started at 1800 and the staff had to push us out. The Officer's Club provided a sumptuous buffet and we provided all the rest. We circulated, met new shipmates from other eras, enjoyed talking to our own old friends and in general became one cohesive group. During the welcome aboard ceremonies which Mort Eckhouse MC'd, we paid homage to those of us who are now serving Higher Authority. We remembered specifically: Les Duffield whose widow Diane and son Leslie, Chuck Wann, Scottie Florance, and Chuck Shaw whose widows Fran, Gloria, and Nancy were with us. We were strengthened by their presence and really appreciated their thoughtfulness in coming.
Saturday, until the banquet, we were on our own which suited us to a "T". Some played "remember when" by touring Pensacola, some went charter boat fishing, many went back to the museum, and some just rested. It turned out to be a very pleasant day.
Saturday evening at 1800 we met in the Hilton's Main Ballroom Gallery for cocktails, more conversation, and companionship. (Our attitudes did not need adjusting). Promptly at 1900 we sat down to feast on Prime Rib or Fillet of Grouper dinners. The house did a superb job of preparing and serving the banquet and all hands seemed to enjoy. We got some administrative details out of the way prior to serving the main course. Mort had the MC chores again. We recognized Jay Thomas, co—chairman; Dave Johnson, our treasurer, and paid particular recognition to Ken Cory and Bill Smith and their cohorts. Mort, Jay, and Dave were unanimously taken up on their offer to keep the "Ops., Admin., and Supply" jobs until the next reunion.
We decided to celebrate the fiftieth anniversary of the Squadron, which is 1 November 1992, with a reunion in Jacksonville on or close to that date subject to the squadron being at home port. We were honored to recognize Rear Admiral William T. "Bill" Pendley and Rear Admiral Byron E. "Jake" Tobin who are still on active duty. We were further honored to recognize the following VP-45 Commanding Officer's who were present: Tommy Thomas, April '58 — March '59; Al Lee, March '61 — March '62; John Chappell, March '63 — Dec. '63; John Collins, Dec. '63 — Dec. '64; Dave Hume, Dec. '64 - Dec. '65; Jim Chapman, Dec. '65 — Nov. '66; Harley Wilbur, Nov. '67 - Oct. '68; Bill Pendley, June '75 - June '76; and Bill Rodriquez, June '78 — June '79. Mort then asked all who were Commanding Officers to stand. There were many!!! Quite a record from one squadron. Likewise, we found out that we had attendees who were in the squadron from 1943 through 1989. We dedicated the banquet to the memory of Captain Carl H. "Bon" Amine, USN (Ret), the first CO of our namesake squadron, the "original" VP-45. Bon had requested a party in lieu of a memorial service. His wife gave him one and we gave him another.    
The treasury, thanks to your generosity and the good stewardship of your co—chairman and treasurer, was reported to be in excellent shape. So much so, that you voted to donate $1000.00 to the Naval Aviation Museum Foundation. We still have over $4000.00 left for seed money for '92. This was followed by reading the following comments we received from Commander James R. Cannon, present CO of VP-45: "Our squadron is currently deployed split-site to Rota, Spain and Lajes in the Portuguese Azores. If you are keeping up with current events I am sure you know that we are busy over here. Operation "Desert Shield" is in full swing and we are supporting the Maritime Enforcement of economic sanctions against Iraq. As a former Pelican I hope you can appreciate our mission. You and your fellow shipmates can be proud of the job we are doing. The squadron is in fine shape and will continue to do the job. Please accept my appreciation for what you and your group are doing. We will be with you in spirit as you come together to recall memories of an organization which remains the very best in the business".
Believe it or not all that only took 15 minutes. However, finally, following the asking of the blessing by Jay, we ate.
Following dinner, Jake Tobin, who was then, Commander, Patrol Wings, U.S. Atlantic Fleet, gave us the "straight word" on today's Patrol Navy. He was upbeat and very enthusiastic. His remarks were well and gratefully received. Our main speaker, Captain Dick Knott was introduced by Jay Thomas. Dick, one of our own, a Naval Aviator, P5 and P3 qualified, negotiator, historian, writer, and former editor of Naval Aviation News spoke on the early days "When Naval Aviation Had a Wet Bottom". His talk was the highlight of the evening. If you weren't there you missed a truly informative, interesting, and well received presentation. Following dinner Dick had copies of two of his books available for those who wished to own one. Dick promised to donate his profits to our association. I am pleased to say that he sweetened our treasury by $571.99. Back to the "ready-room".

Sunday morning and the end had to arrive. Following a great private brunch in the ballroom, we bid our farewells and vows of meeting in JAX in '92. See you there.

Kennedy Snow rates a special section of his own for his contribution to our association. Those 200 some who responded to his questionnaire found themselves listed in a truly magnificent document that was distributed to all attendees. Kennedy did this work at his own cost.